A partnership with Gree Netherlands
Expertise is only a phone call away
High quality training and education
Warehousing possibilities
Always a stock of original parts
No minimum purchase
Knowledge sharing forms expertise
We are happy to share our expertise with you so that together we can continue to grow in knowledge and skill. Gree Netherlands stands for loyalty, decisiveness and expertise. We invest a lot of energy in a good and stable relationship with you and like to go the extra mile. We also like to sink our teeth into your problems to find the most effective solution. This makes Gree Netherlands a full-fledged partner for all your climate needs.
Do you have sales or support questions? Sjors is happy to help. View our range of qualitative Gree training courses below.
Support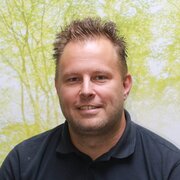 Sjors Hendriks
Sales Service Support
Gree Training Days
Knowledge is power but sharing knowledge is strength! We regularly give product training courses in which we gladly share our expertise in the field of cooling and heating. Are you part of our network of dealers and installers and would you like to improve your product knowledge or expand your product portfolio? Take a look at our training program and contact us for the possibilities at training@spam-protectgree.nl. You are welcome to visit our training and practice rooms.